This blog shows the transformation of R494 LJK over the 3 years or so i've owned it, from a completely standard 8v S2 Rallye to a planned 250bhp plus supercharged and caged 16v Rallye track toy.
Here's the near complete spec:
Engine:
Rotrex C30-94 centrifugal supercharger
Rebuilt TU5J4 16v bottom end slightly over bored
Wossner forged low comp pistons
TU5JP4 head with J4 cams, lifters, springs and pullies redrilled to suit the J4 inlet manifold
TU5JP4 cam covers
QEP lightened and balanced flywheel
Helix 6 paddle clutch kit with uprated cover and sprung clutch plate
GMC 4-1 exhaust manifold
Peugeot Sport Group A engine mounts
Pace radiator and one off header tank
GMC Rotrex supercharger bracket with idler pulley and hydraulic additional belt tensioner
Blue Samco coolant hoses
Mocal 13 row oil engine cooler with thermostatic sandwich plate
Mocal 9 row oil cooler Supercharger oil cooler, Rotrex header tank and oil filter
SPA digital Oil temp/oil pressure gauge
Second sandwich plate for the SPA oil temp/pressure gauge
KMS wideband lambda controller with display
DTA S40 Pro ecu
RC Engineering 440cc injectors and 4 bar FPR
600mm x 230mm x 65mm Intercooler
SFS blue intercooler hoses
2.5" intercooler pipework powdercoated black
K&N 3" inlet air filter
TMsport 2.5" bore stainless manifold back system
8v coilpack with Magnecor HT leads
Pug Racing aluminium gear linkages
Griffiths Engineering quick shift
Suspension:
Peugeot Sport Tarmac spec dampers (Fronts shortened roughly 40-50mm with 20mm more thread than standard)
AST camber adjustable solid top mounts
Peugeot Sport strut reinforcement plates
Rally Design Coilover conversion kit
7" 300lb Faulkner springs
18mm front ARB
22mm rear ARB
23mm torsion bars
Brakes:
Front: 306 S16 calipers, 266mm discs and Ferodo DS2500 pads
Rear: Standard
Wheels:
S2 Steels with 185/55/14 Yokohama A539s (Road)
S2 Steels with Bridgestone Potenza semi slicks (track)
Other:
Safety Devices 12 point "cup" cage
Sparco Evo seats
Sabelt 3" 4 point harnesses
Box section seat rails
Carbon doorcards plus various other covers
Aluminium glovebox blank/ECU mount
Rally nuts dished 350mm steering wheel
Odessey 680 dry cell battery mounted behind the passenger seat
Battery isolator switch
SPA Designs digital oil temperature/pressure gauge
Aerocatch bonnet pins
washer bottle relocated to rear nearside quarter
clear side indicator lenses
This is how she stands at the moment.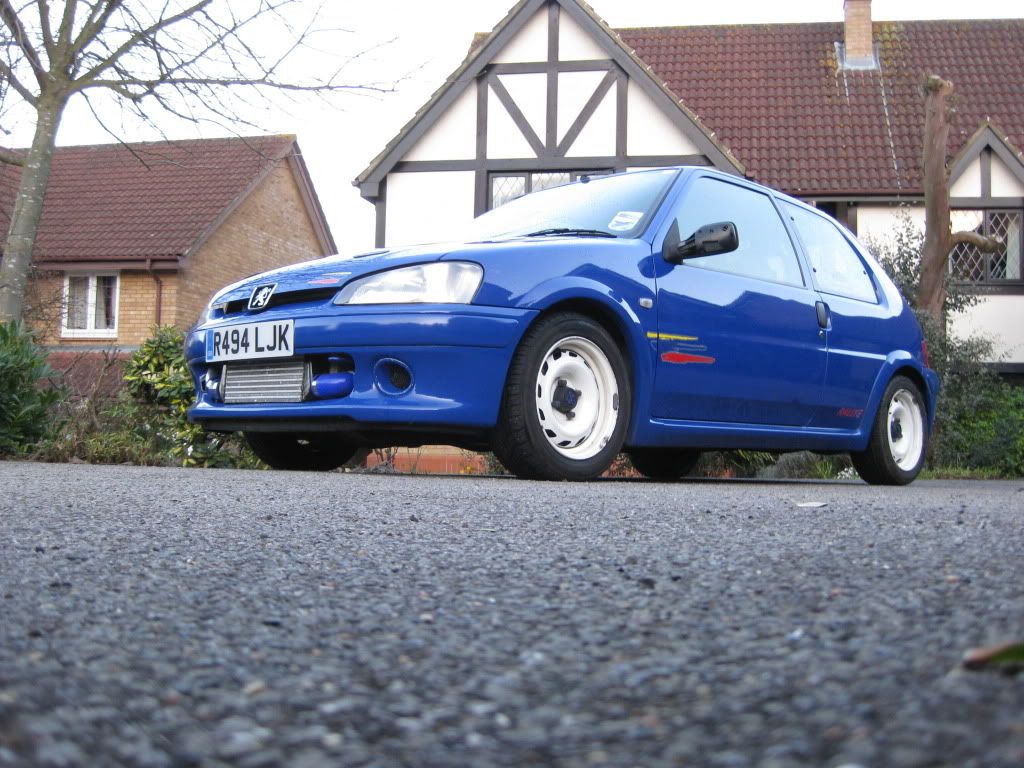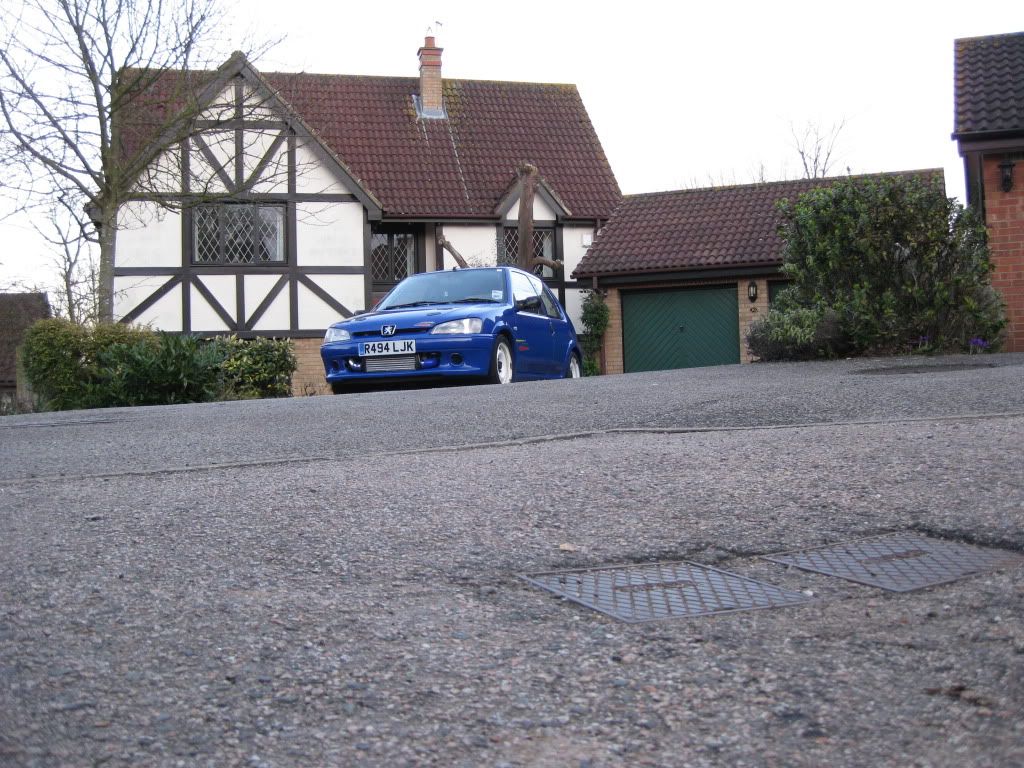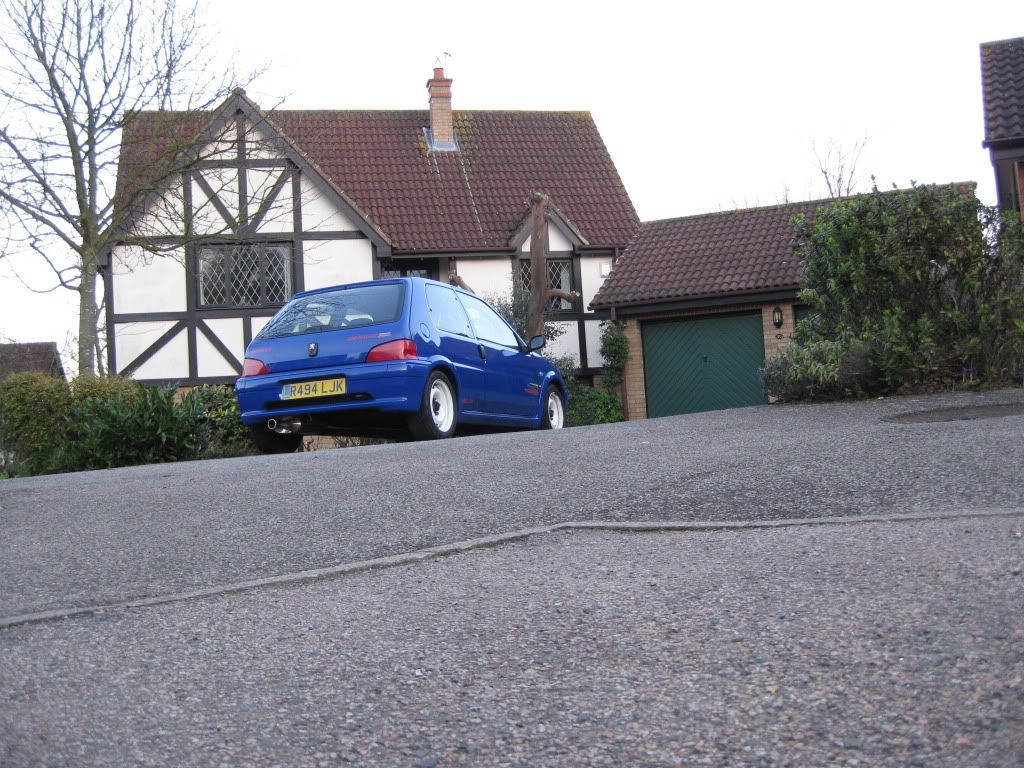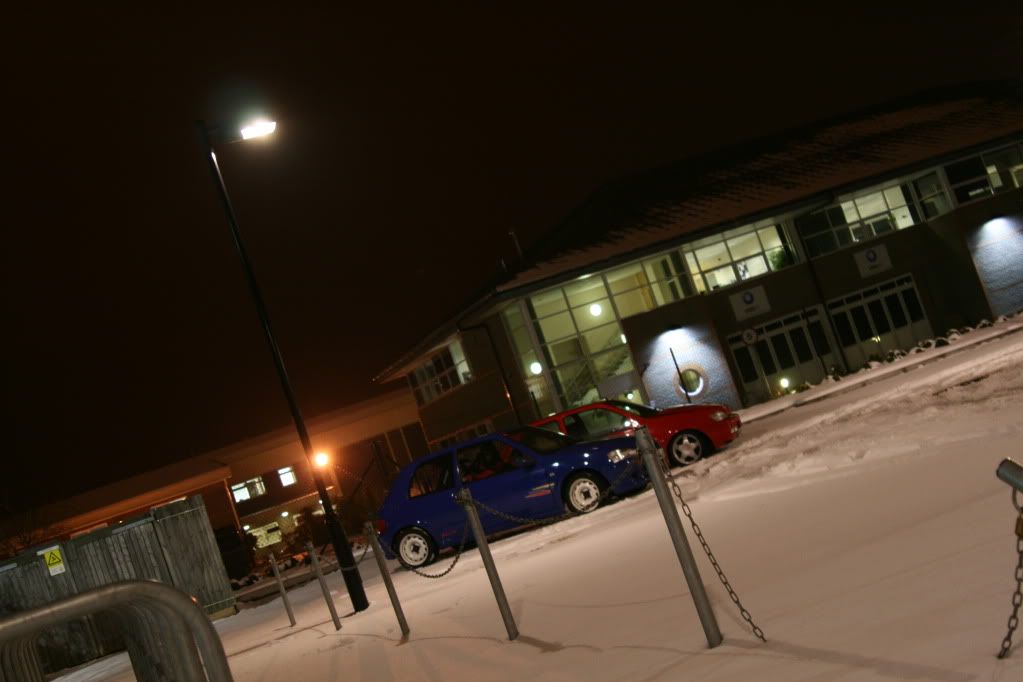 Pages 1-2 are the cars early days as a pretty much standard car.
Pages 3-4 show the cage going in, a few track days and the start of the supercharger idea.
Pages 5 onwards show the refreshed engine bay, 16v engine swap and all the preparations for boost.
Feel free to comment!
I must have spent about a year to eighteen months looking at the RR longingly, for some reason even though I had never driven or even seen a Rallye in the flesh I just knew I had to have one. After graduating uni and clearing my debts it was time to start looking for a Rallye, I ended up treking down to Reading to see this one and put a deposit down there and then. About two weeks later she was mine! In the background my beloved Polo can be seen, I hope the old girl is being looked after!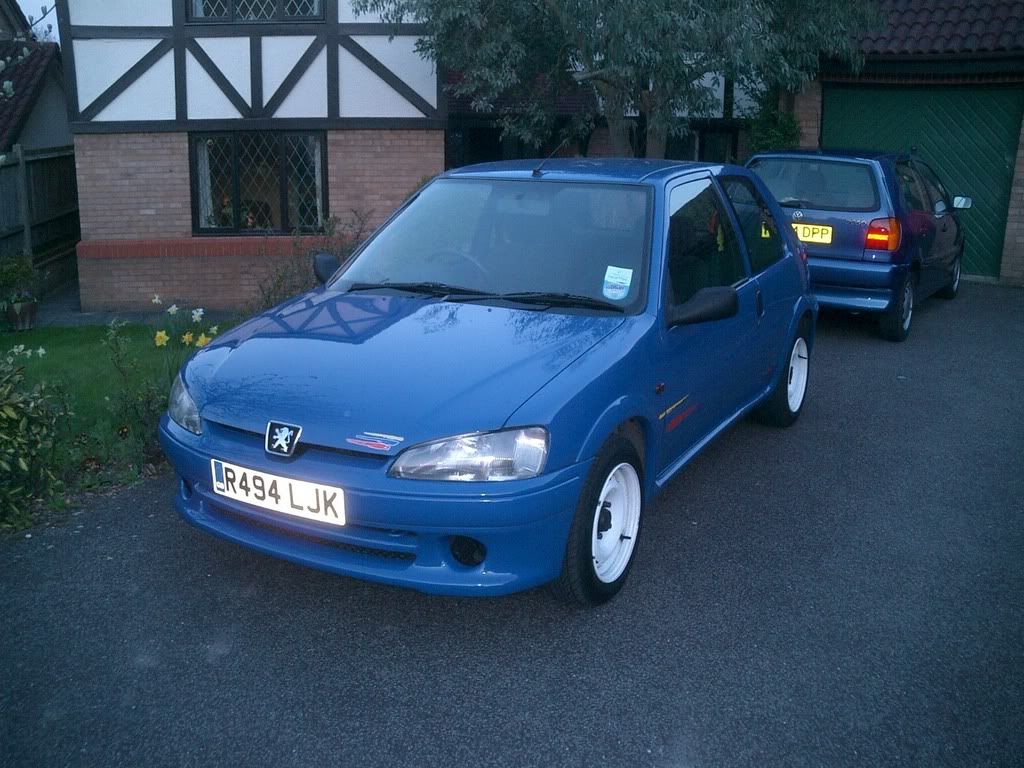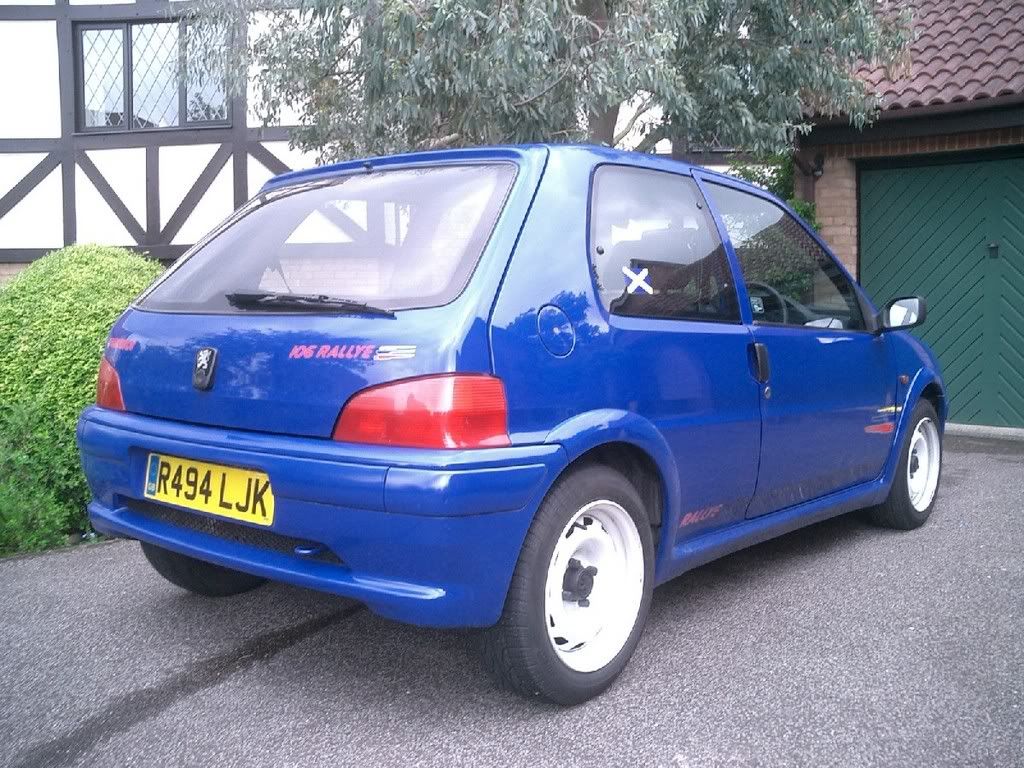 Nothing could be done to the car (now known as Fifi) until my insurance came up for renewal except for things like poly bushes, powerflex lower engine mount, a K&N filter element and a new clutch (due to the release bearing failing).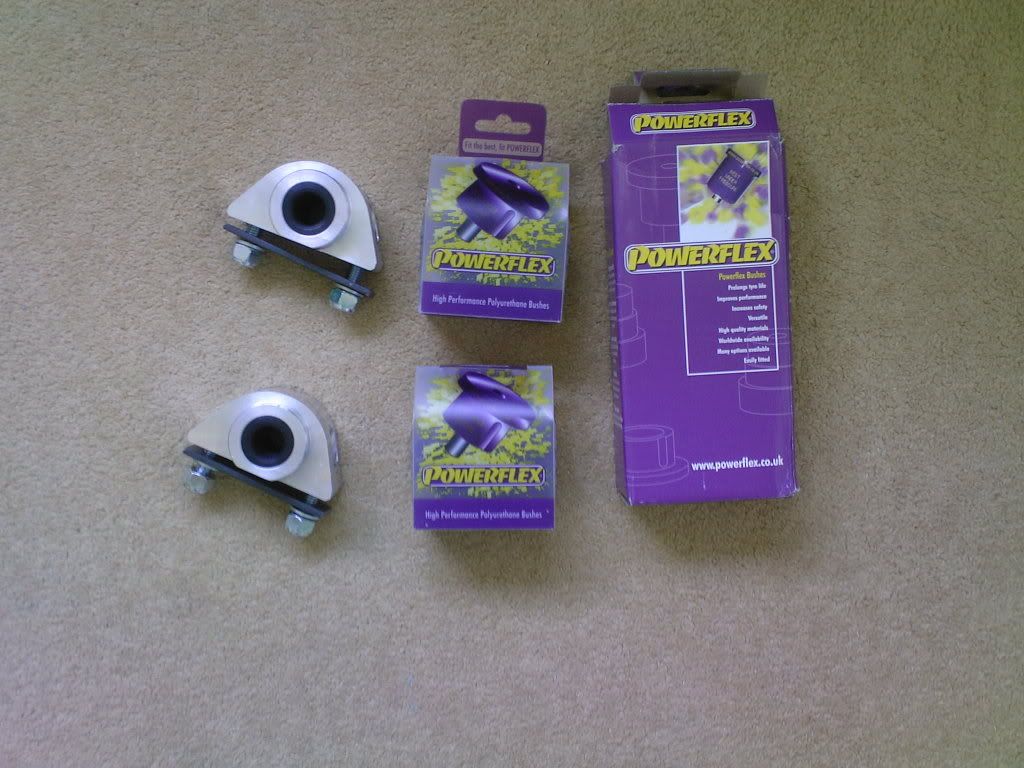 Also toyed with mud flaps for a while and de-wipered the rear because it kept flopping down onto the bodywork.
Also finally managed to get the fog vents fitted (about bloody time!)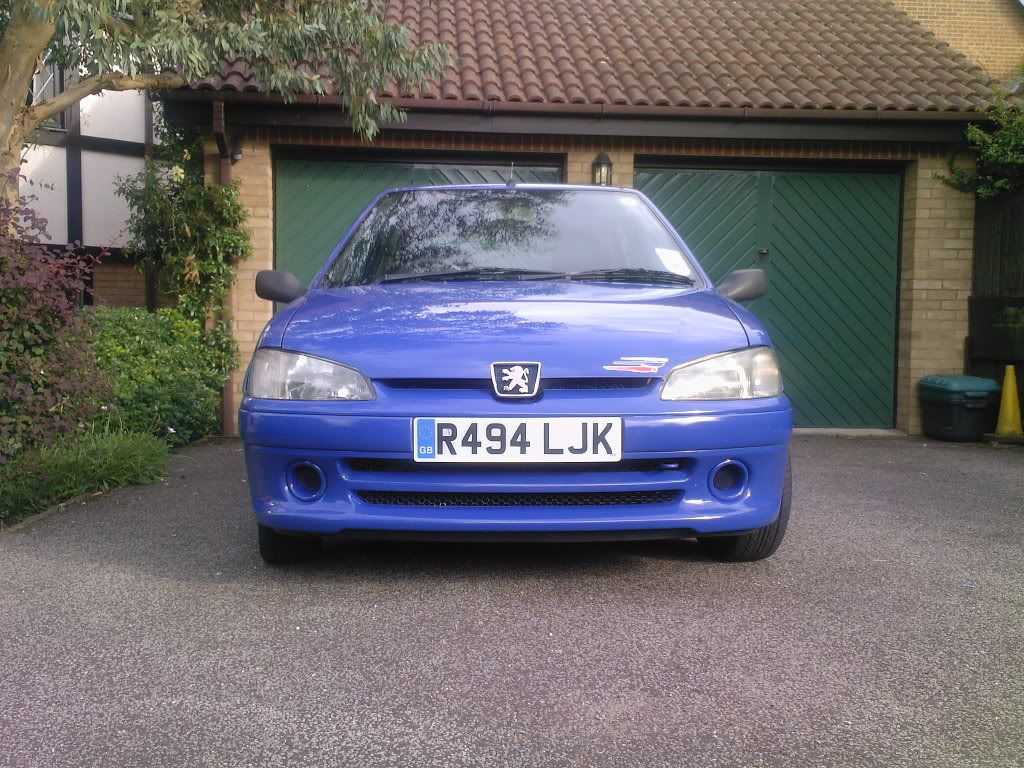 Next step the engine bay, the rocker cover was looking a little rusty so a few coats of Bianca white later and it looked like this.
Also managed to snap a stud in the process, doh!
Couple of months later and my insurace came up for renewal, the lovely Mr Flux allows me to mod away without increasing my premium, sooooo first things first on with the RR approved raceland manifold and pugsport exhaust.
Also decided to partially strip out the rear for the fun of it
(minus the biking essentials)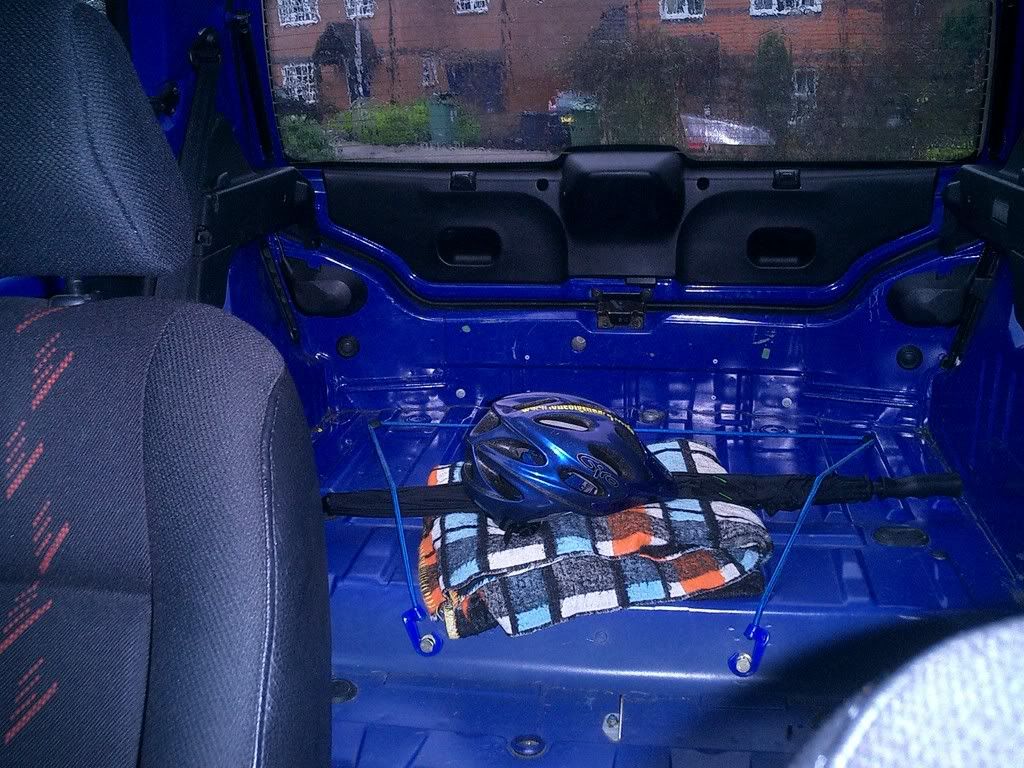 Finally plucked up the courage to order these, as all Rallye owners should know, no Rallye is complete without a vibrating dash :P (Group N by the way, wasn't man enough for Group A).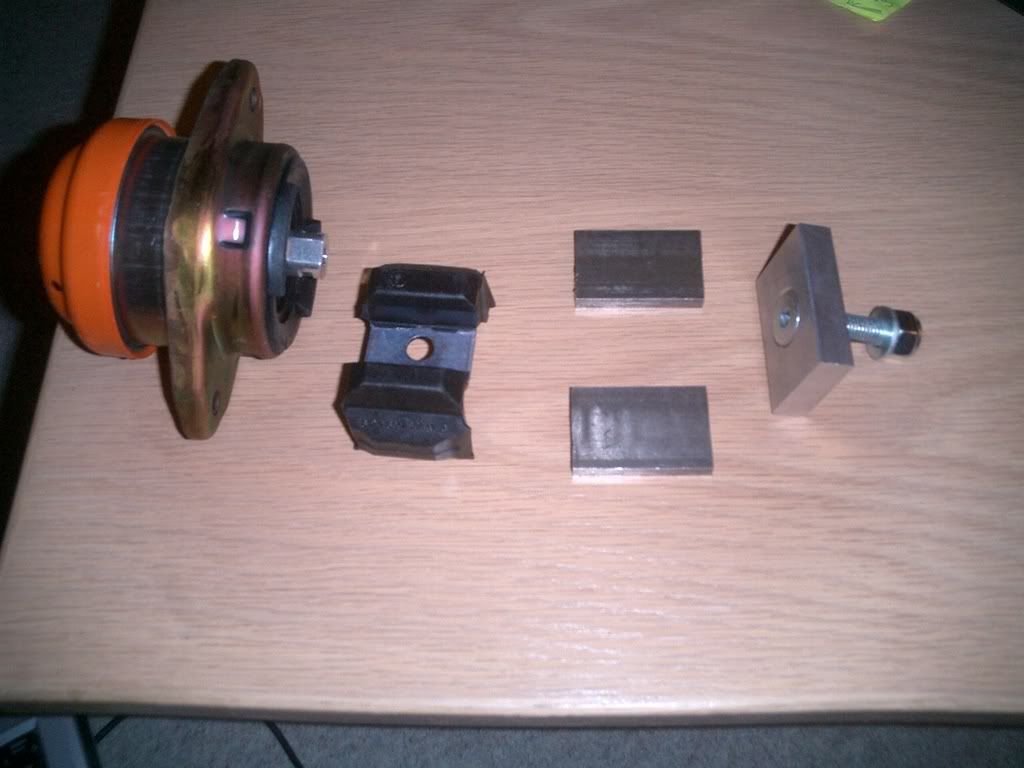 The most recent addition was a Raceland enclosure with a green cotton filter, this took some serious modification to fit but eventually went on. Noticeable difference in throttle response now I think, not to mention the roar!
I'll finish for the moment with Fifi in her natual habitat.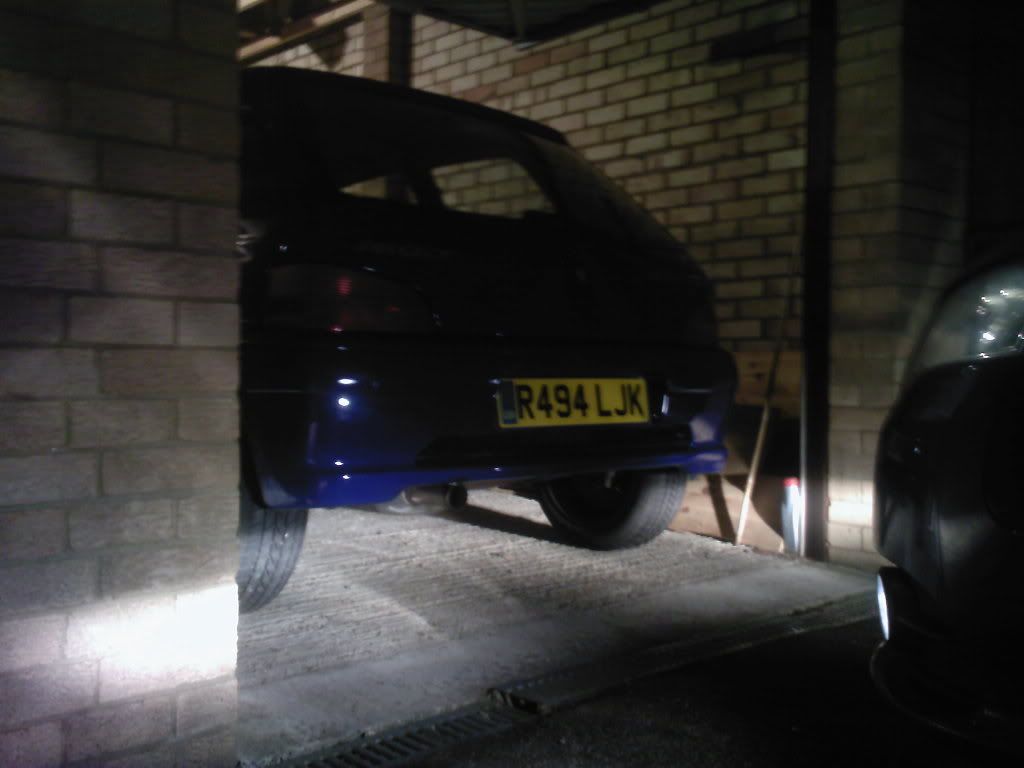 There is much much more to come over the course of the next few months with the build up to the Retour! Those that are on the forum as much as me will have noticed me lurking around the for sale section!