Its about time to start this blog seeing as i bought my rallye back in july 2004 when i found it in the for sale section on the register with 92,000 miles. A trip to hull on the sunday to view,meant i placed a deposit, and then i picked it up the following evening. The car was 100% standard down to the original stereo and speakers, but didnt look like it had been washed very often, the finish on the paint was dull and there was ground in muck on every panel.
Due to working as a valeter at the time, i got stuck in with the machine polisher and g3 compound and ag srp on the tuesday straight after work and the bodywork came up like new after spending 5 hours on it.
Shortly after buying, the first mod was the sparco mudflaps (they did get cut down in time)
After owning the car for a year or so, i decided i wanted a rally car look, on a budget (£120 to be precise lol) so had these made up (but only kept them on 6 months the novelty wore off lol)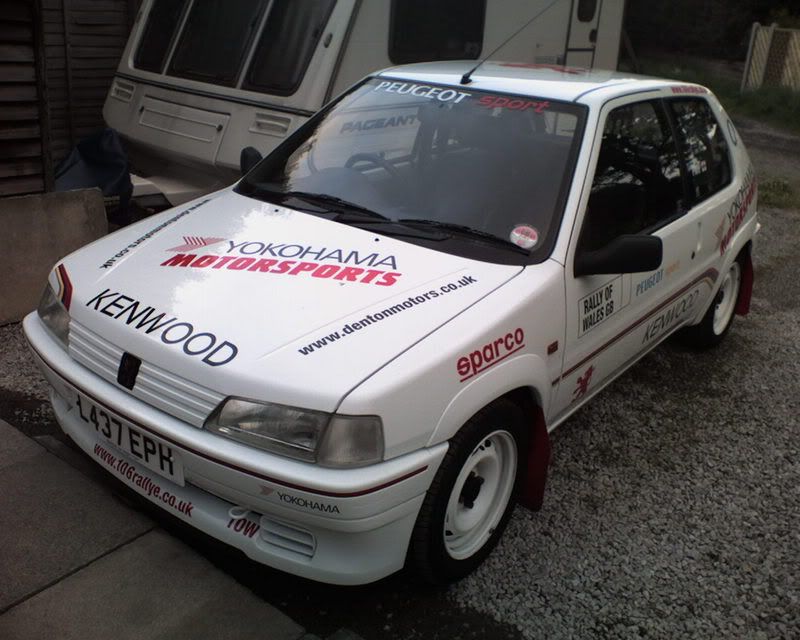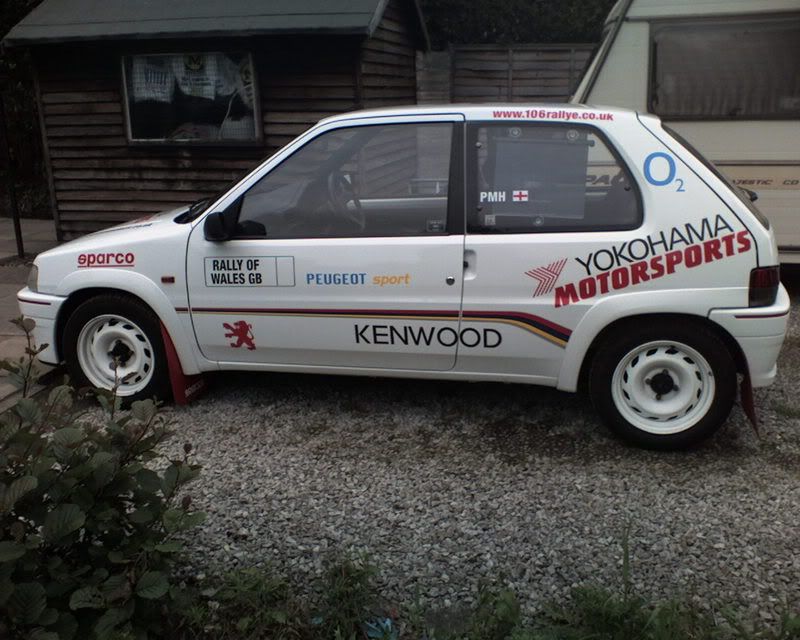 As well as driving and cleaning it, nothing much happened apart from replacing the front calipers and pads from an s2 rallye (thanks to john_jedi in london), general servicing and a steely refurb that only lasted 6 months before they rusted again, so purchased these off ebay for £90 (now my current winter wheels)
Then came the pugsport after a trip to the 106 parts unit in january 06, wish i'd had a satnav back then lol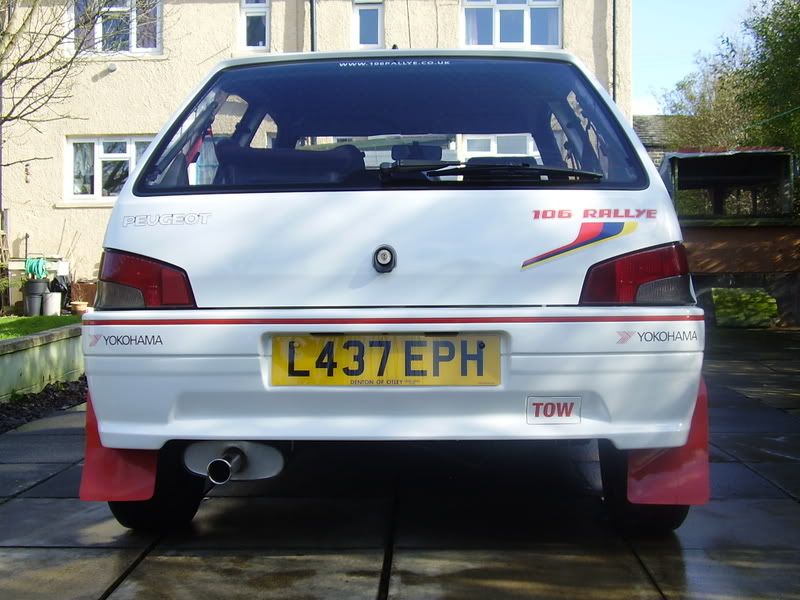 It did get straightened up after about 5 attempts at removing it from the car, bending the hangers then refitting to check a level fit lol
The car had been running spot on from the day i bought it (bar the usual coilpack failure, the crank sensor which took a lot of new parts before i realised it was faulty lol) up until the 300 mile trip to anniversarallye in october 07, when 2 miles from home on the return trip, the car lost all power and smoke poured from under the bonnet, which after a fire extinguisher and a bucket of water turned out to be the wiring loom rubbing through from the gear linkage over a period of time, causing the loom to set alight
.
The entire engine loom was removed by a local electrician who replaced nearly all the wires and did a fantastic job costing £320. (Strongly recommend an extinguisher to everyone, i would have lost the entire car if i didnt have 1, so now i carry 2, just in case lol
March 08 came, and finally had the car lowered with puma 40mm springs front, new standard shockers, strut top bearings and drop links, which took rickyp about an hour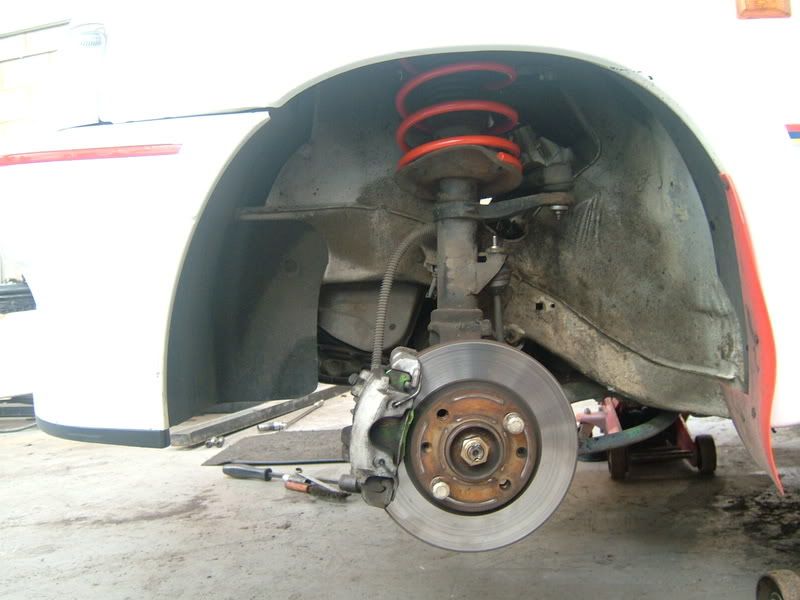 Then the rear lowered to match, which took about 6 hours, it was siezed solid lol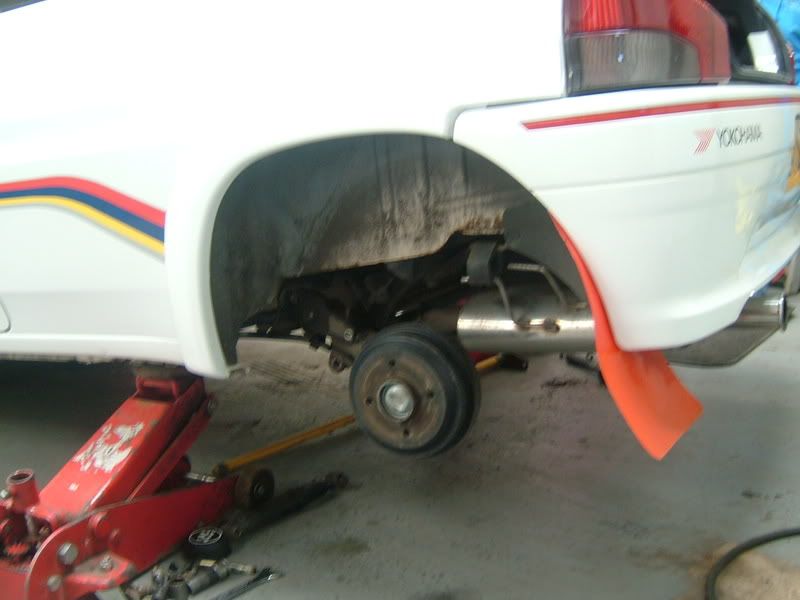 before and after
And a few days later, and £650 i picked these up from larkspeed in leeds (15" turinis and 195/45 15 yokohama s drives)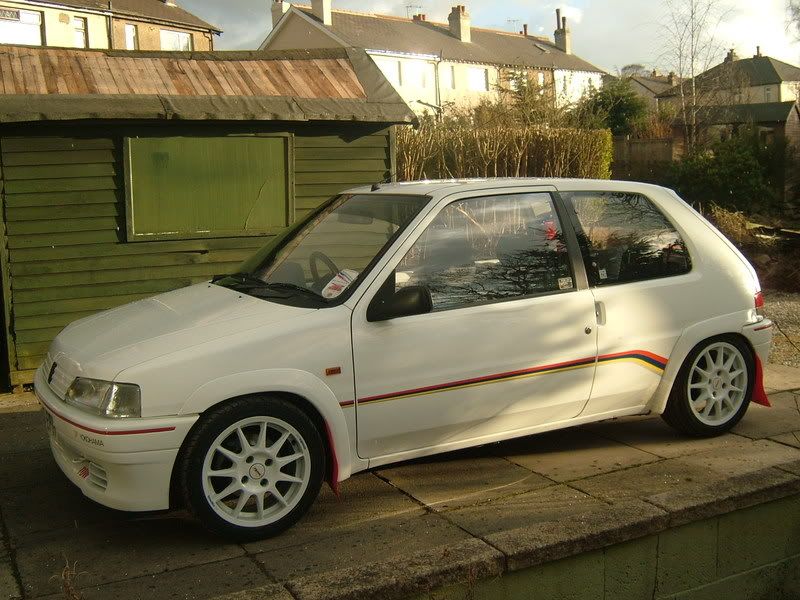 Thats currently how the car stands, but hopefully before fcs09 will have the 4 plastic arches and both bumpers removed, repainted then refit, and re-chipguarded and painted white under all 4 wheel arches to brighten it up a bit. I think its stood up to the english weather really well for a 140,000 mile 15 year old frenchie lol
I bought this 2 months ago, a 70k mile, 1.1 escapade, and should have it on the road shortly to save mileage on the rallye.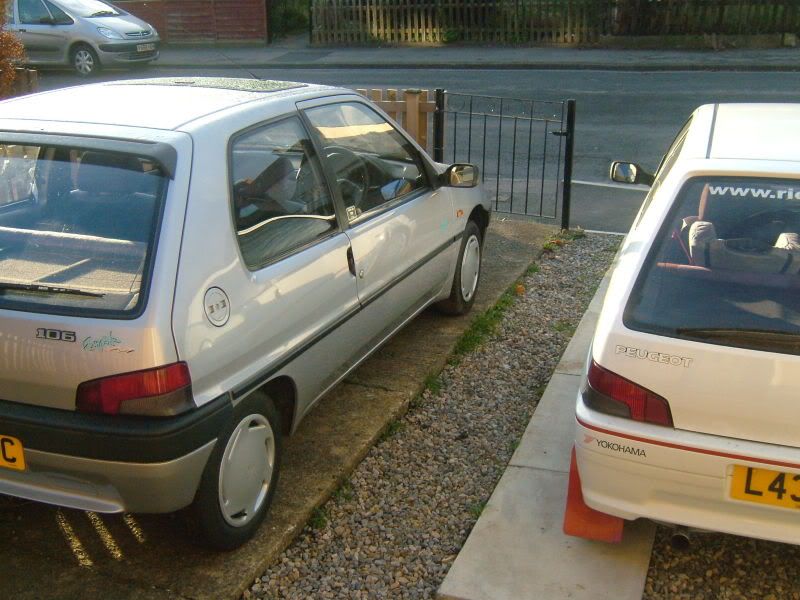 Did think about selling last year for a 206 gti, but glad i didnt, i doubt i'll ever sell my rallye, i love it to bits, and is the most
fun
car ive ever driven, even though it isnt the fastest, after working for various car dealerships, and an independant porsche, bmw and mercedes specialist.
Hope you enjoyed reading my blog, and ive kept all my original parts to put back to standard, should i ever decide to