May as well start a little blog as i have almost finished building this now.
Bought the car in November 2008 after i had an accident in my S1 rallye, I only used it until the 31st of December, it has since been SORN'd on my drive.
I've had a cheeky little 1.0l 106 to potter about in so have not been in a rush to get it finished, therefore everything has been done properly and i've had time to get everything sorted just how i wanted
A few pics from when i bought it: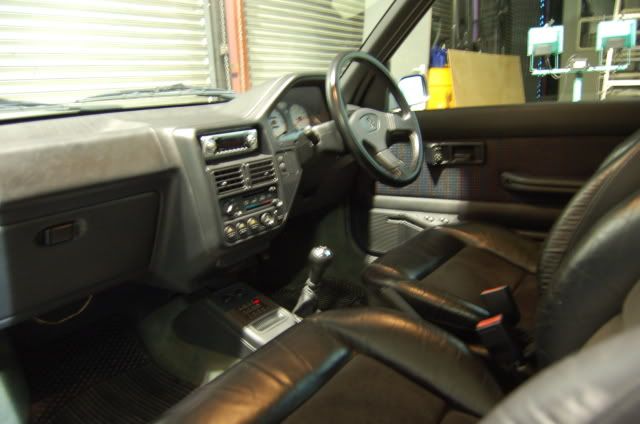 It was pretty standard bar the GTi leather interior, lowered 40mm on spax, twin exit magnex and a few other little touches.
I wasn't too bothered how the 8v ran as it would be getting ripped out anyway
The shell was straight, in good condition and was something different to my rallye.
I kept the 16v from my rallye, only sticking the maxi exhaust/pug sport dampers on and that's how i drove it until it came off the road.
Since it's been off the road the 16v engine has been rebuilt + i've been spending my money on a few other bits and bobs
I will eventually buy some more throttle bodies over winter but for now i'm happy just to get it back on the road again!.
Spec as it stands now:
1994 Miami Blue XSi
Engine:
1998 16v Saxo VTS lump
Cat Cam 708 camshafts
Ported/polished/Gas flowed cylinder head
Q.E.P Lightened and balanced Flywheel
Race land 4-2-1 s/s exhaust manifold
Peugeot sport maxi cup car exhaust
KMS Standalone management
KMS adapter loom
16v wiring loom converted by Dave (AKA cobblers)
Slimline fan
Nissens radiator
Polished rocker covers.
Transmission:
S1 rallye 1.3 gearbox
Group N linkages
B&M quickshift
Chassis:
Peugeot sport grp N shocks front and rear
lowered 40mm
Group N engine mounts
OMP lower strut brace
OMP upper strut brace
Braided brake lines
Interior:
106 GTi Half leather
1400 xsi doorcards
Carbon steering wheel badge
Carbon sill plates
White dials
206 Gti Gearknob
Apline CD player
Exterior:
S1 106 light covers
Standard 106 XSi Wheels painted Renault hologram grey
Carbon door handle surrounds.
Black bonnet pins.
Before it goes for M.O.T i've just got poly-bushes to fit and buy a decent set of 266mm brakes
Also bought an old style magnex pugsport today as i've always wanted one, i'll save the maxi one for special occasions
Only have ONE pic of the whole conversion due to having no camera, although i'll borrow my mates SLR next weekend and get some decent shots!
Can't wait to get it back on the road again