So following on from this thread...
http://www.106rallyeforum.com/forum2...ad.php?t=61519
, thought it time to start a blog for rallye #2.
After L437 EPH (1st s1) was bumped on a saturday evening drive out in July '09, i had a month long battle to get a decent payout from the other parties insurance company.
I had a choice, take £1500 and they take the rallye, or take £1250 and keep the vehicle. I chose the latter, and after much thought decided to sell the car and move on to something different. It would have taken a good £1k to repair to a high standard, and it needed a bit of work to the boot floor due to the dreaded rust, as well as getting a bit long in the tooth with 143k miles.
After 5 years ownership, me and Laura were both sad (actually heart broken) when the car sold on 26.08.09. It's suprising how attached you can get to a car, the memories come flooding back, ones like bringing your 1st newborn son back from hospital in it
So with winter not far off, until i decided what car next, i bought a jimny to put us on lol. Suprisingly good fun, but as soon as i'd bought it i realised selling the rallye was a mistake and wanted another.
3 weeks after buying the jimny, i sold it. Laura had spotted a white s1 rallye on ebay down in Great Yarmouth, standard apart from a Pugsport exhaust and K&N panel filter.
This one had also been a Cat C/D write off due to a very low speed bump, but with a genuine 60k miles. So minimal was the damage, it only needed 2 headlamps, an indicator, and a new slam panel. So a deal was done over the phone, and luckily with jimny selling on the thursday evening, i took a trip down to Norfolk on Friday 18th september with my dad to pick it up.
So with M578 HAC sat on my drive i took a few photo's. The paint was very much like my 1st rallye, very dull and looked like it hadn't been polished in years!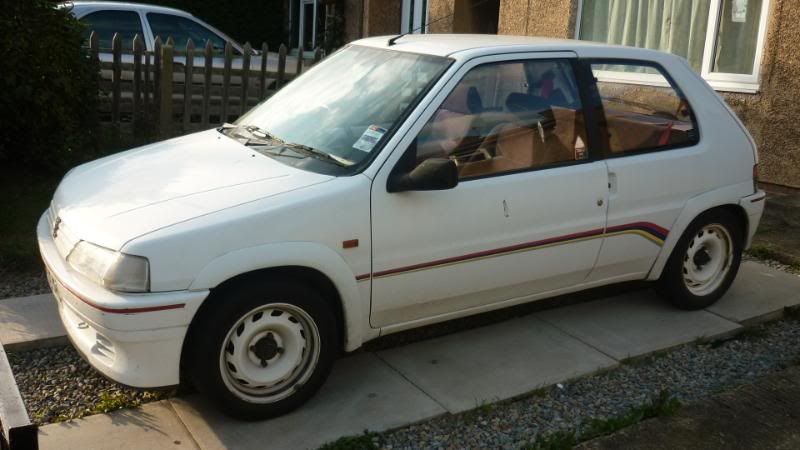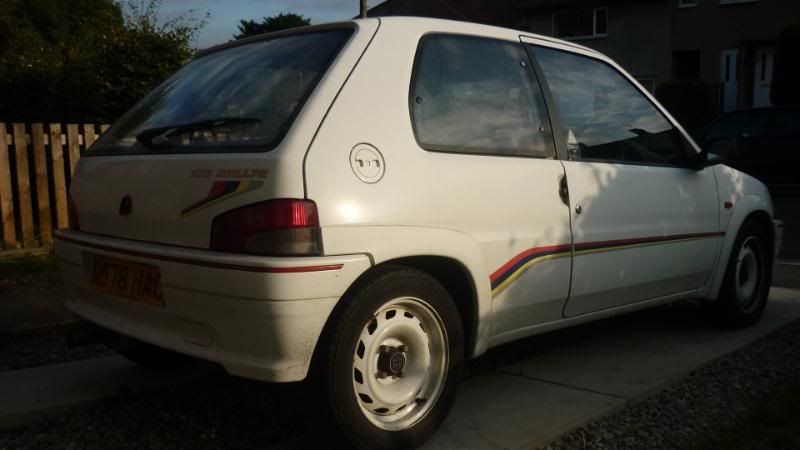 There were a few jobs to be done...a full machine polish, faded decals needed replacing, full interior shampoo, head gasket and timing belt as well as a full service, wheels needed a re-furb...the list went on lol. So it had been a bit neglected, but i knew i could turn it into a peach with my trusty buffer.
But damn it felt good to be back in an s1 even after 3 weeks!